Next month I'm returning back to Des Moines to attend the Global Insurance Symposium (GIS). I can't believe it's been a year since FindBob took the stage at the conclusion of our time at the Global Insurance Accelerator (GIA). As I look forward to re-connecting with our friends, mentors, and customers I couldn't help but reflect upon my time at the GIA.
Discovering the Heart in Innovation
Entrepreneurship is not for the weak. Even the strongest though, need support so when you join an accelerator, you do it to discover what you don't know about your own startup. You join to further develop an understanding of your customer's problems, and you join to grow your network. Starting FindBob in Toronto meant there was no limit to the amount of support that was readily available in our local ecosystem, and our experience of going through and graduating from the Founder Institute and taking part in the Accelerator Centre in Waterloo was priceless. With the GIA, the payoff for us was all that and more. We looked a little farther outside of the Toronto ecosystem and found an insurance focused startup accelerator in Iowa funded exclusively by world class insurers. Well, duh. It was a no-brainer. We needed to be a part of it.
The GIA
Full disclosure, the GIA program took 6% equity in FindBob in exchange for several key benefits. Taking dilution keeps me up at night, but sleepless nights aside, what we gained from the GIA was worth every percent. Beyond the standard accelerator perks, the GIA introduced us to future customers and many of our current investors. But more importantly, the GIA emboldened our entrepreneurial spirit. I've seen my team grow, and we left the GIA far more resolved and concentrated on our mission than ever.
Our GIA family is a slice of the storied American Midwest. Brian Hemesath and Megan Brandt helped make our integration into the epicenter of insurance and the local startup ecosystem seamless. The vibrant city of Des Moines and the great state of Iowa embraced us. The investor companies made sure their participation with each company was far more than just a dog and pony show. They carefully listened and provided feedback. Their CEO's stopped by to chat, and their execs made it clear they were just an email, Skype, or coffee request away. These were real offers of support, not just lip-service. Where synergies existed, I saw cohort-company after cohort-company collaborate on deep and meaningful dives to explore product-market fit. There was an authentic commitment to have dialogue centered around solutions to big problems together.
Our Coach
I'd be remiss if I didn't highlight the outstanding mentorship. Honest mentorship is something I truly value, something that can pay dividends well beyond a dollar amount. I experienced industry and startup veterans willingly donate their time to often give critical and poignant feedback on every aspect of our business. And just when it all felt too overwhelming, Brian would invite me on one of his patent-pending walks around the block, which offered the perfect balance of listening and coaching.
Demo Day at the GIS
Although there were literally dozens of structured events and opportunities to connect with real-life prospects interested in learning more about our offering, our entire GIA experience culminated in our demo day held during the Global Insurance Symposium. If you want to get a sense of the strength of the insurance community in the Midwest and learn a bit about the GIA at the same time, I highly recommend attending.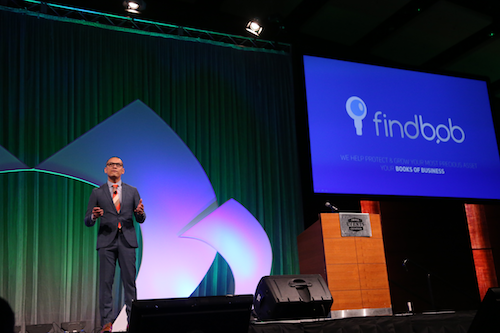 The GIS is an international gathering of industry leaders and regulators interested in having dialogue about technology and its impact on the industry. Close to 600 attendees and over 200 companies come together to discuss both the threats and opportunities facing the industry. Our company, along with our fellow 2017 cohort companies, took the stage to tell our stories and present our businesses to those in attendance.
Aside from the nerves, hitting the stage, and cheering my fellow cohort companies on, perhaps the most memorable part of the day was the meeting we had that morning with Grinnell Mutual Reinsurance. After working with their mentors and several meetings with their investment committee, they formally expressed interest in becoming our lead investor. It quite possibly was the most important day in setting the direction of our company.
Living in the Ecosystem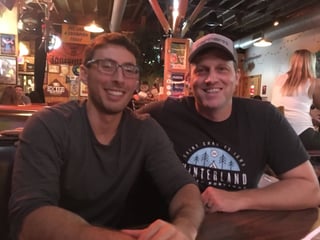 Last but not least are my fellow cohort companies and founders. As an alumnus, my only wish is to maintain the fellowship and friendship I found in these inspired and beautiful people. I was as emotionally invested in their success as I was for FindBob's. Entrepreneurship can be a lonely place. Founding an InsurTech startup can be even lonelier as, in the bigger picture, there aren't many of us chasing an InsurTech dream. It is not for the faint of heart. The GIA masterfully brought together an amazing group of brilliant, talented and dedicated entrepreneurs for the 2017 class. This "cohort" was the perfect foundation for FindBob to enter the InsurTech ecosystem and find its place.
It is easy to reduce InsurTech to technology buzzwords and financing news. What we experienced in Des Moines was more than product development and introductions, it was a love for the industry and putting in real time to make it better. We found the heart of, and in, innovation at the Global Insurance Accelerator.
If you're going to DSM during the Global Insurance Symposium the week of April 26th or want to connect to learn more about the GIA from someone who's been through it, or want to connect to learn more about FindBob and how we help accelerate transition and growth in the enterprise, look for us at the GIS InsurTech Expo or feel free to book some time with me at the GIS.